Wildwood, NJ is the best place on Earth!
From September 1st until September 5th, my mother, my son, and I went off to our favorite vacation spot, Wildwood, New Jersey. We have been going to Wildwood since I was about 7 years old, and we went every year up until I was diagnosed with cancer. Then we only went 2 more times. The first was in bewtween transplants, and it was my mother, my sister, and our then 1 year old sons. The second time was just my mother, my son, and myself the year after. So this was my first time back on a family trip since 2002, and I was looking forward to it. Jade and I had our own adventure last summer. So I decided to write about my journey, complete with some pictures, and share it with everyone. I hope you all enjoy it!

September 1, 2006: Day 1
We got off to a late start. We were supposed to leave at 8 am, but as luck would have it, my alarm is on my cell phone, which for no good reason went into charge mode. So the alarm never went off, and no one came to wake me up until 9:15. We didn't end up leaving until 11:00, but it was just as well. I'll explain why in a little while. The car was packed so tightly that we couldn't even see out of the back window! We decided to stop for breakfast at the Allentown rest stop, where I ended up eating Pizza Hut, lol. We left there at 1:30 and started for the hotel. Along the way I took some pictures of signs, because they looked amusing.
The Discount Liquor store is right next to the termite and pest control store, which is endlessly amusing to me.
I was interested in the Greek gas station. And the wonderfuly low price of gas in New Jersey. At the time we passed this station, gas was $2.77 pack at home. This was just peachy with us, especially since it is
illegal
to pump your own gas in New Jersey.
This is where we usually eat on the way home from the beach. It is so cool inside too. I love 50's themed restaurants!
Tony's Fresh Produce…I took this because of an in-joke bewteen Jade and myself. Enjoy, Jade! I did not stop to ask about the specials though.
My mom and I were laughing at these. The cans say on them "Take cans too" but the garbage man left them behind.
Holy crap! It is the biggest woman alive!
The Friendly Food Mart, as opposed to the Mean Food Mart that was down the street from it.
I swear to god, it was in color when we got there. We had nothing to do with the conversion from black and white.
Somewhere along the Atlantic City Expressway, we saw a sign that made leaving late so worth it. It said that Verizon would be footing the bill for the $2.00 toll between the hours of 4 and 6 pm. Since we left late, we hit the area at 4:09! Yay, Verizon!
The Tuckahoe Inn. I giggled because I am all of 12 years old.
I found Avalon! And because of the rain, it was rather misty.
The wind was blowing so hard from the rain that the traffic lights looked like they would blow right off and hit the cars!
It looks like the law office is in the Port-a-Potty! My jaw almost fell onto my lap when I saw how the sign was situated. But what made it even better was….
The actual law office was inside of a trailer right behind the Port-a-Potty! That was the find of the weekend right there.
It was raining very hard when we got to the hotel, so rather than get soaked to death on the Boardwalk and risk getting sick, we decided to order a pizza and stay at the hotel. The pizza was delicious and we ordered 2, just in case we needed to stay in for dinner any of the other nights we were there.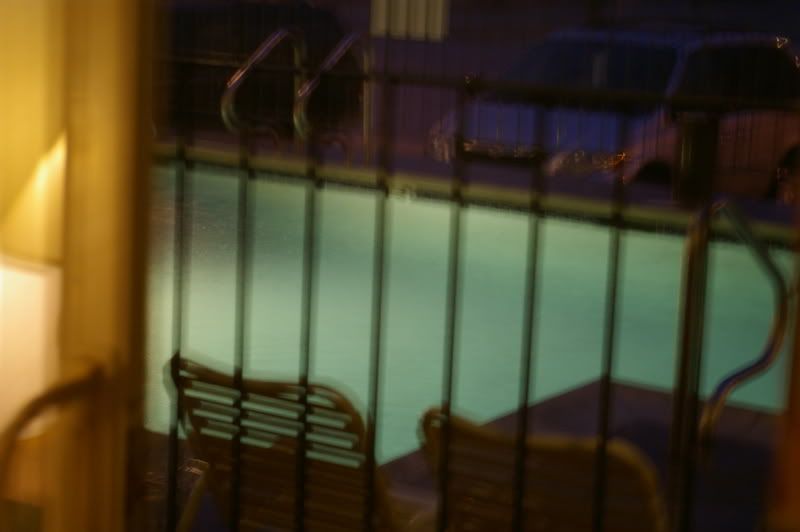 The pool has a light in it, so it looks really neat at night. It glows!
After taking some pictures of the pool and other things, we decided to call it a night. I used one of my facial masks, which scared the daylights out of poor Alex, lol, and then went to bed. We were praying for better weather the next day, and we got what we wished for. 
September 2, 2006: Day 2
It was a nice sunny day, but somewhat windy. On the way to the boardwalk, I took some more pictures. One that I failed to obtain was of the Hotel Seacrest, so I looked it up online to give you an image!
He's everywhere!
I'm sure it's a nice "metro" hotel.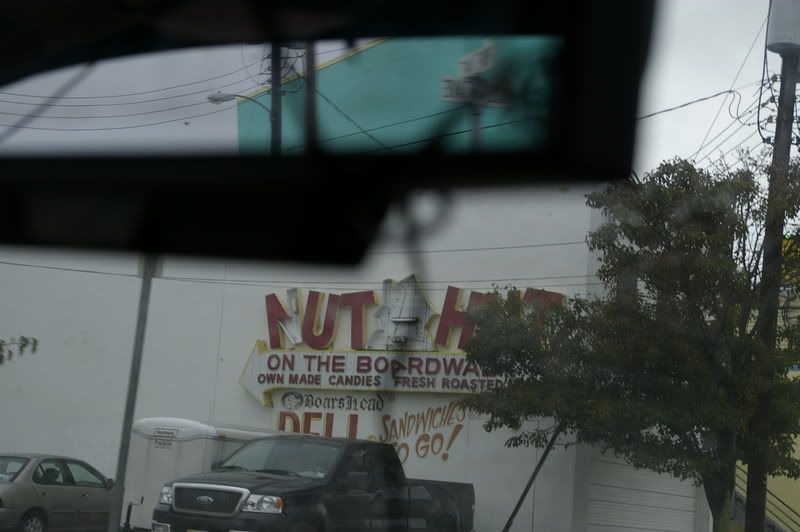 The Nut Hut, which really should be the name of The Anime Cauldron, lol.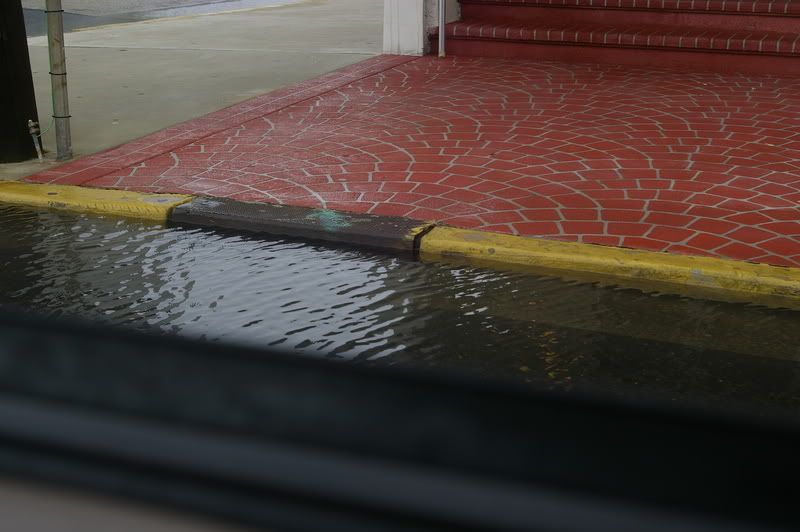 The rain from the night before left some areas partially flooded. But this wasn't even the worst of the damage. I'll get to that in a minute though.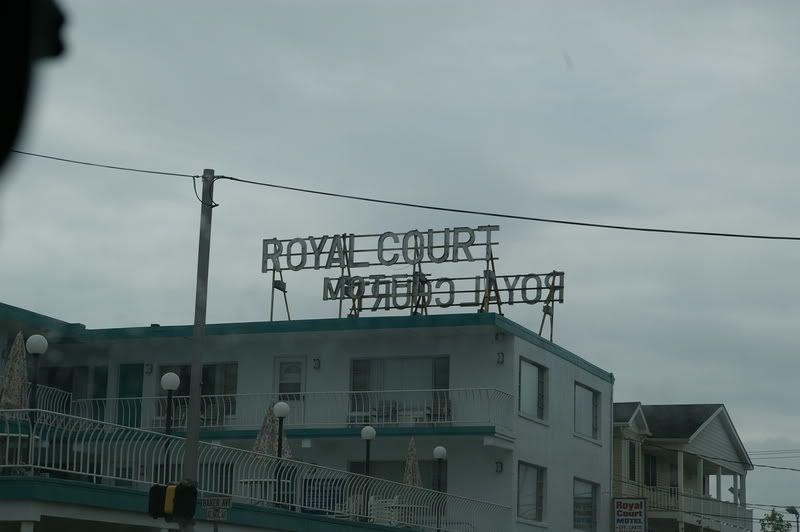 This is where the Royal Court stays when they vacation in Wildwood! I did not get to bow to the Queen though because she was at the Ren Faire that day. 🙁
Corny caption time! It's a Flock of Seagulls! Yay!
Avalon really is located in New Jersey! I wonder why I never ran into the Lady of the Lake.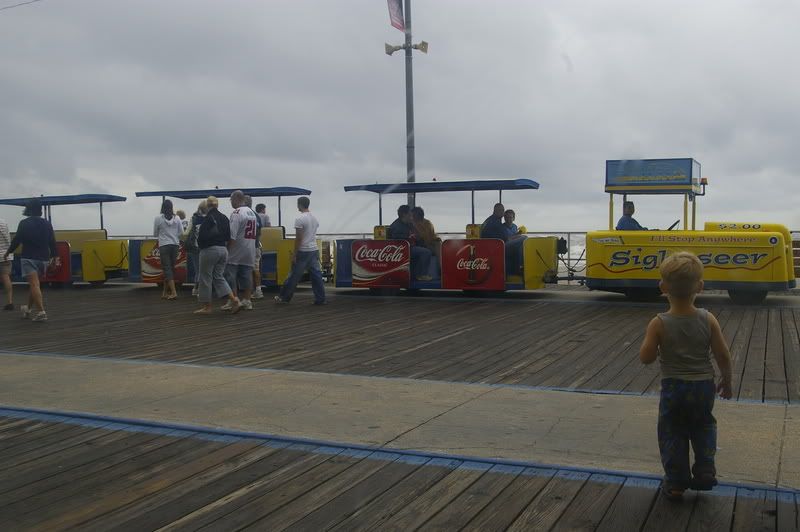 The Wildwood Boardwalk is now brought to you by Coca-Cola! Alright!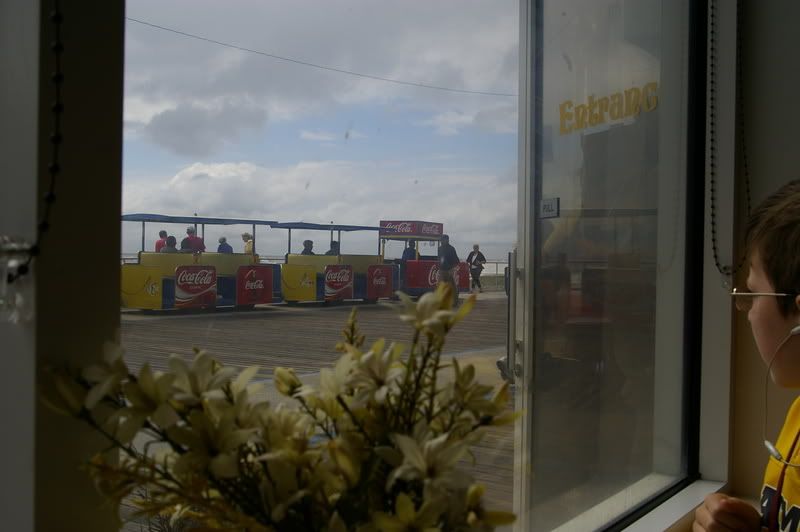 This one is a brand new tram, and was it ever bumpy to ride on. Oy!

I have never seen a pink Spiderman hat before. I was amused.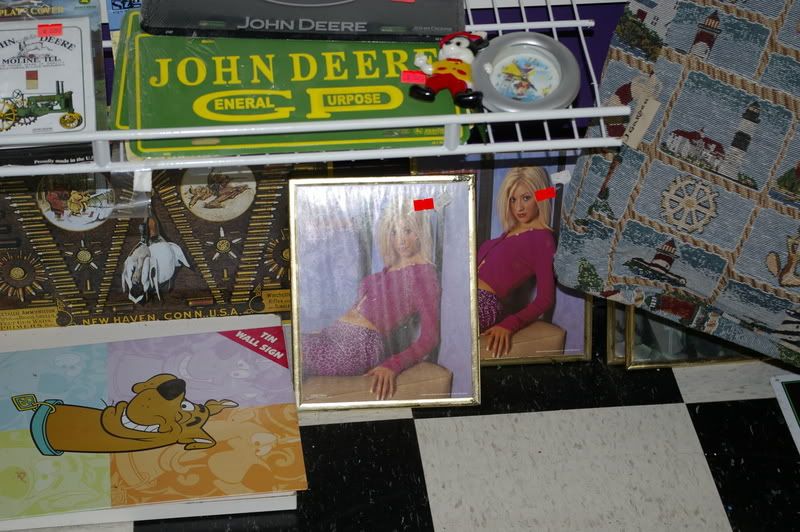 Hey! It's Christina Aguilera in the Maria outfit from Silent Hill 2! Yay! It was in this store that I bought this awesome Sailor Moon watch for Jade.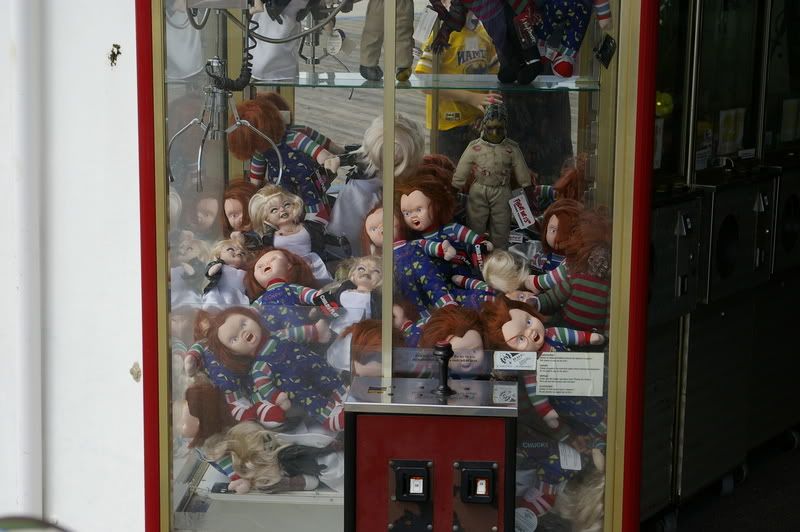 Dude! It's a machine filled with Chucky dolls! If you look closely, you will also see some Freddy Krueger and Jason Vooheries dolls. I never did get to try to win one. 🙁


Alex is for sale!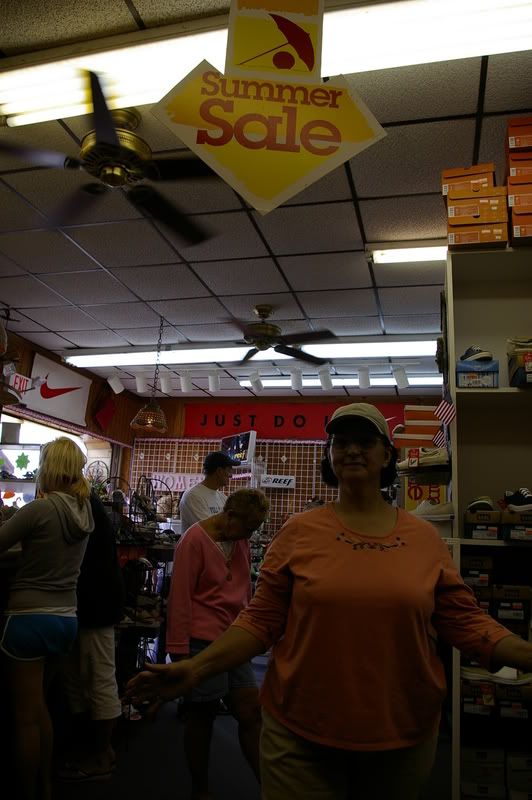 My mother is on sale, too! I wonder how much they are selling her for.
While we were riding the tram car, I found the hidden location of the cameras they have set up to stream on the Greater Wildwood Chamber of Commerce website! Yay, me!


These are tokens for the tram car. We never got these before, so I snapped a picture. We never got them again for the rest of the trip, so I'm glad I did.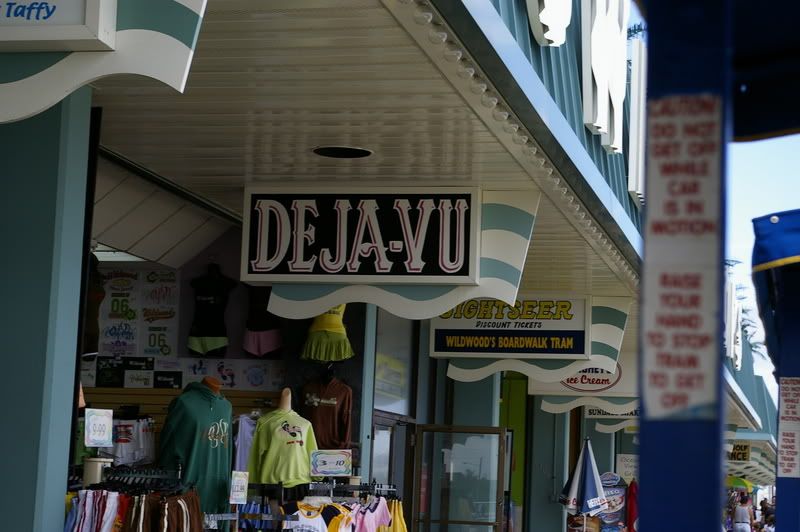 I have a feeling I may have shopped here before. I know it's corny, but I had to!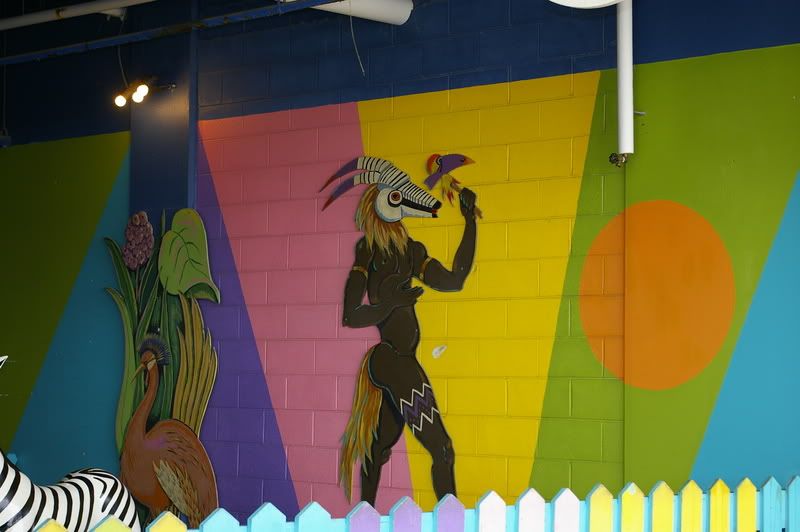 This guy is on the wall at the Safari Golf place on the Boardwalk. If I saw this guy on any safari, I would run away screaming.


Tally Ho!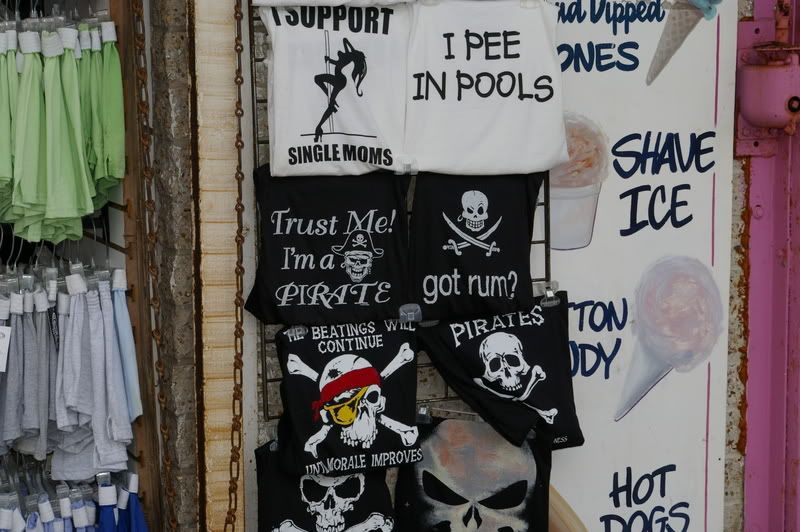 Got rum?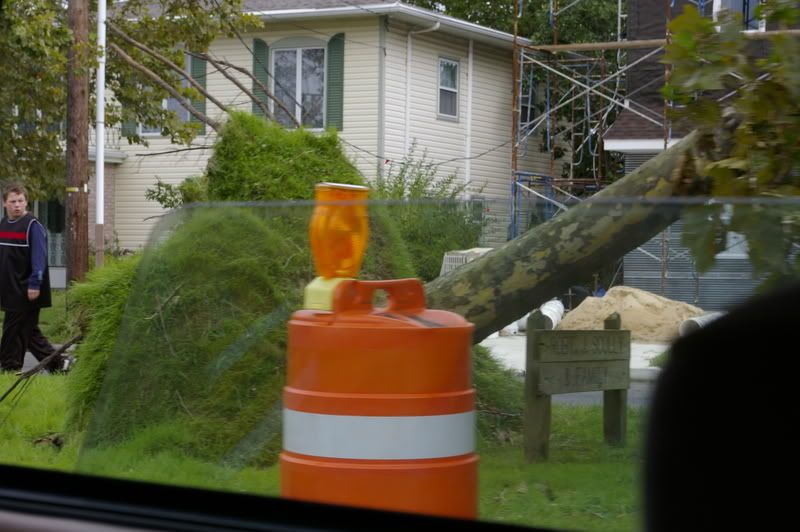 Here is more of the damage done by the winds. Trees were completely uprooted. It was spooky.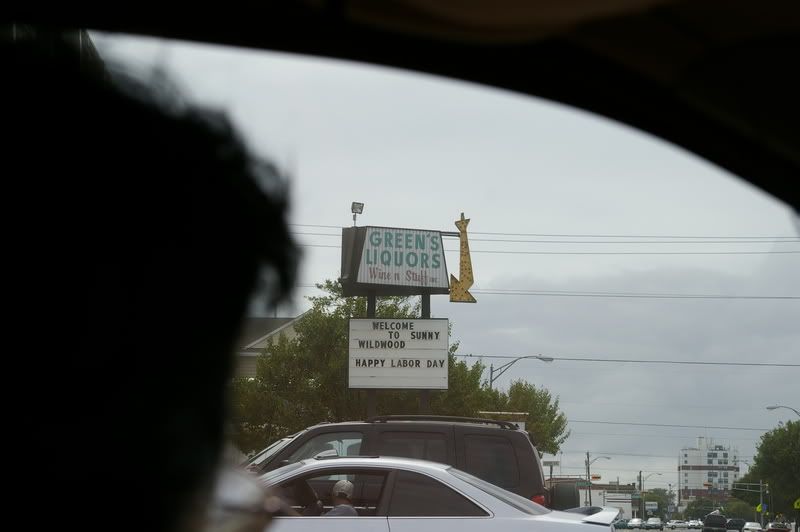 Green's Liquors Wine and stuff. What "stuff" they have I don't know, but I liked the wording of it.


This market is Super Fresh! And super cold inside, let me tell you.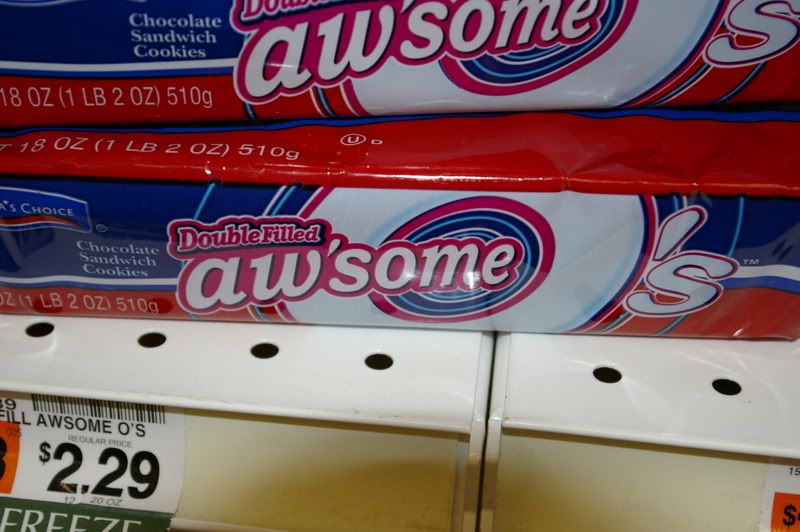 Aw'some O's! That is the coolest name for a snack food ever invented. Why eat Oreo's when you can have Aw'some O's?


Another tree ripped from the ground.


A wooden dolphin down by the beach.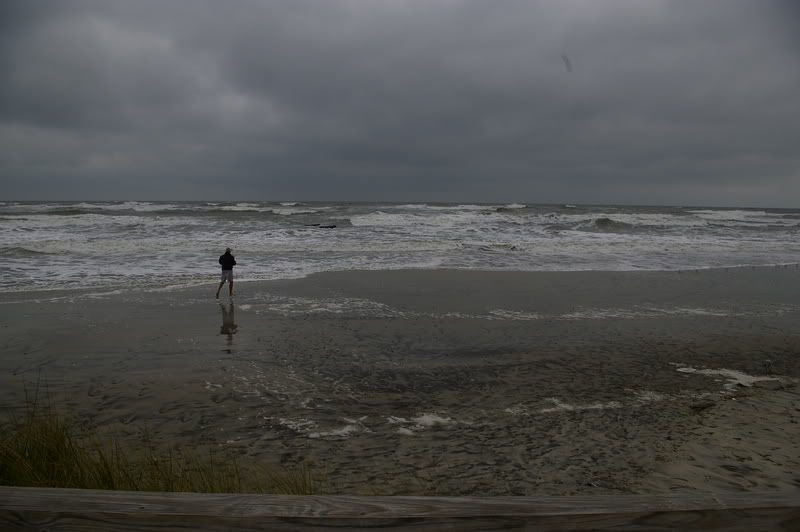 This was how close the ocean was to the shore. The waves were at least 20 ft. high. Normally all of this area is sandy.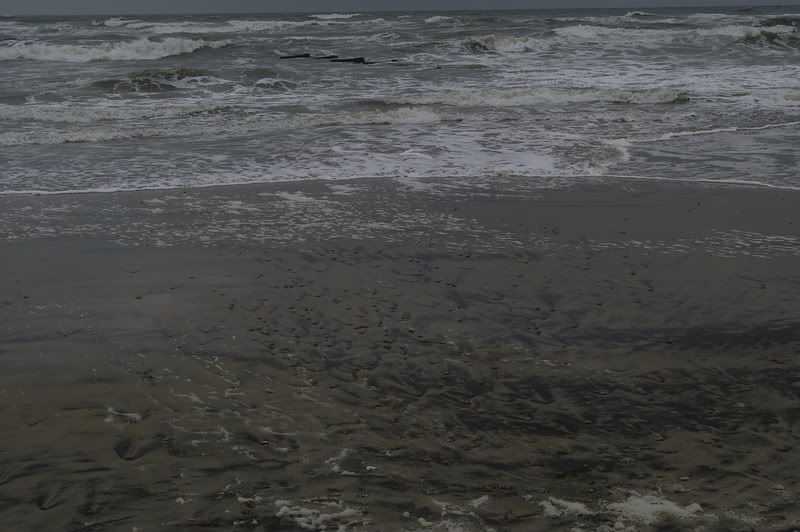 One would think all of those dark things in the sand were seashells. They were actually jelly fish. Tons and tons of jelly fish. Ewww.


A close up of the jelly fish. And the foam. There was lots of foam.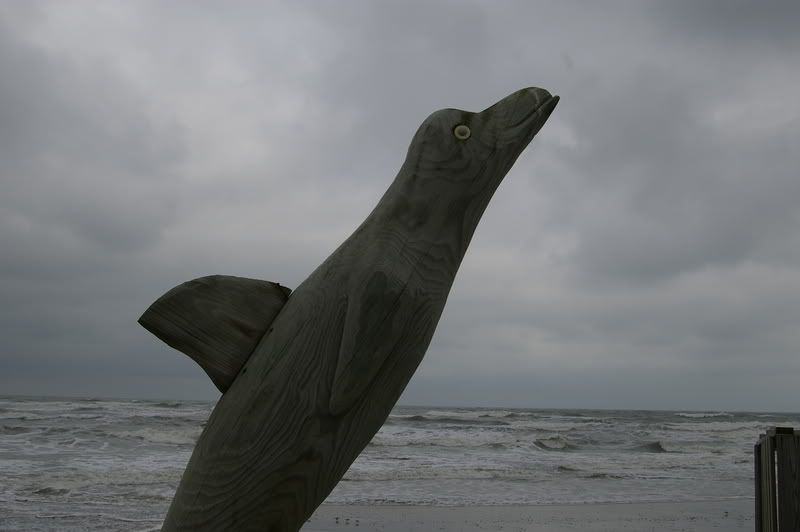 A close up of the wooden dolphin.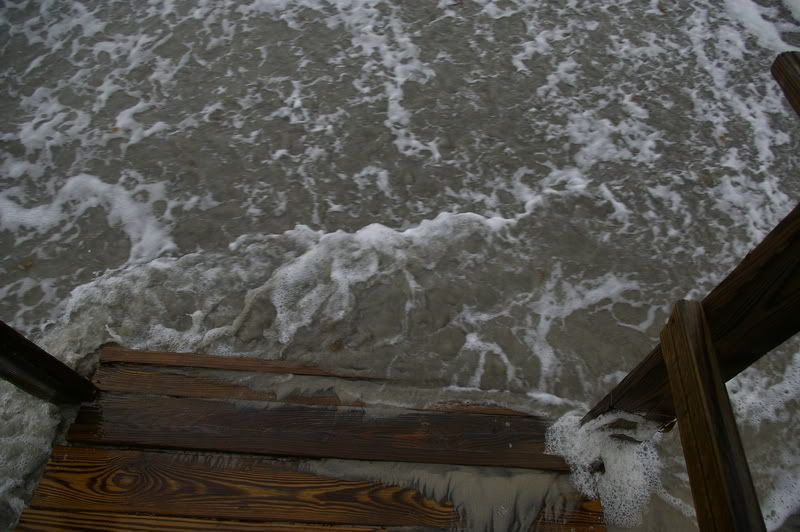 The water came right up to the ramp to get down to the beach.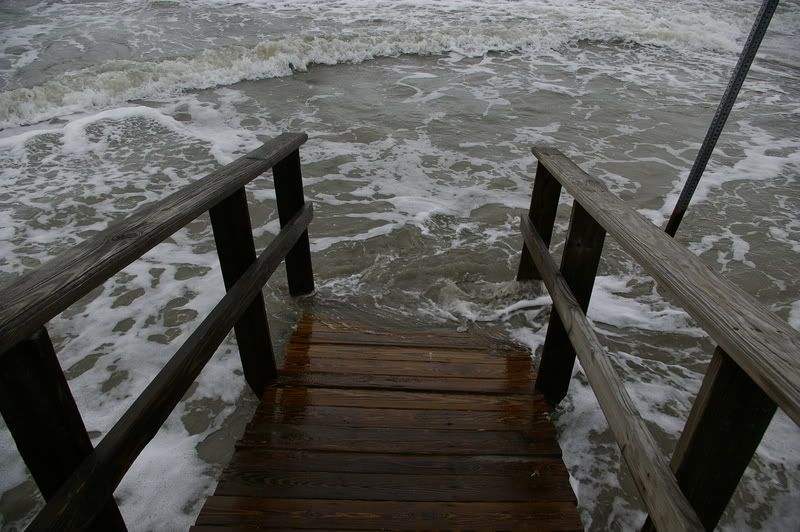 I had to jump up a bit to keep from getting my feet soaked.
So after we watched the water wash up by the shore, we went back to the hotel so Alex could swim a little bit before we headed back to the boardwalk for dinner. So while I sat by the pool watching Alex, I called Jade on my cell. I was chatting with her and thinking to myself how I was getting hungry, when from out of nowhere, a Dorito fell on the chair next to me. Snack foods from the gods! I looked at the balcony above me, but saw no one. Weird. So after awhile, we got ready to head up to the Boardwalk for dinner.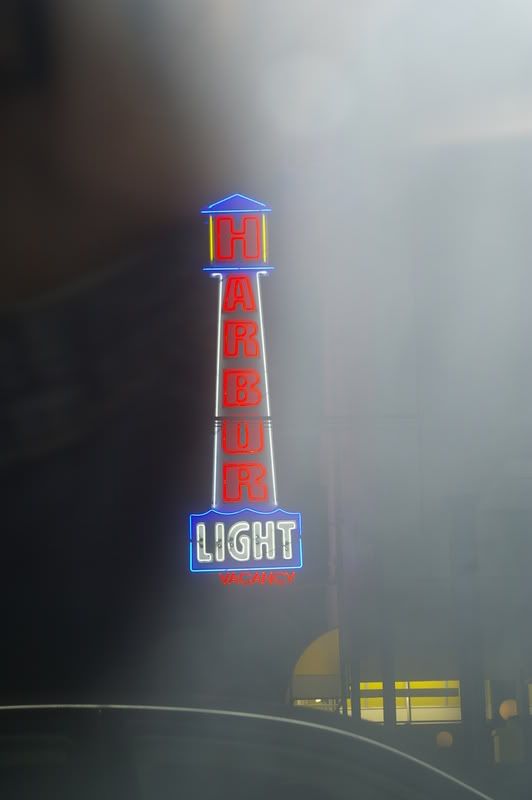 This is a picture of the hotel's sign. I liked how there was a mist along the side of it.
We ate at Mama Leone's, where I was invited to do the following: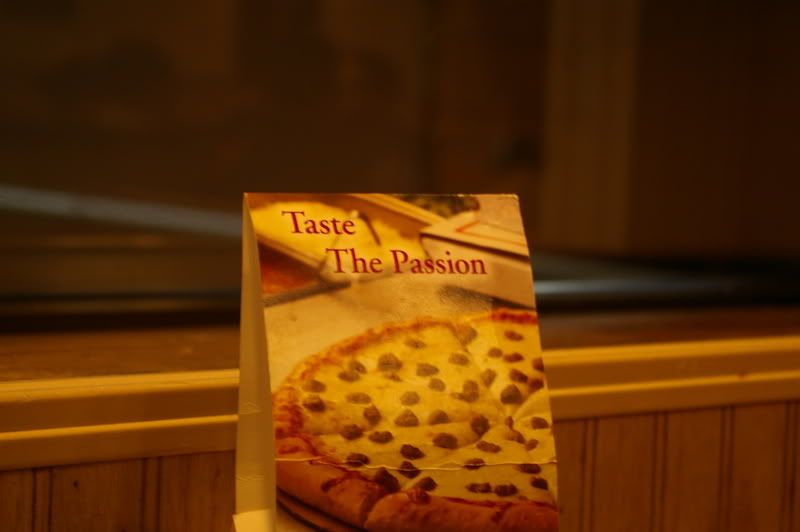 Taste the Passion! Oooooh!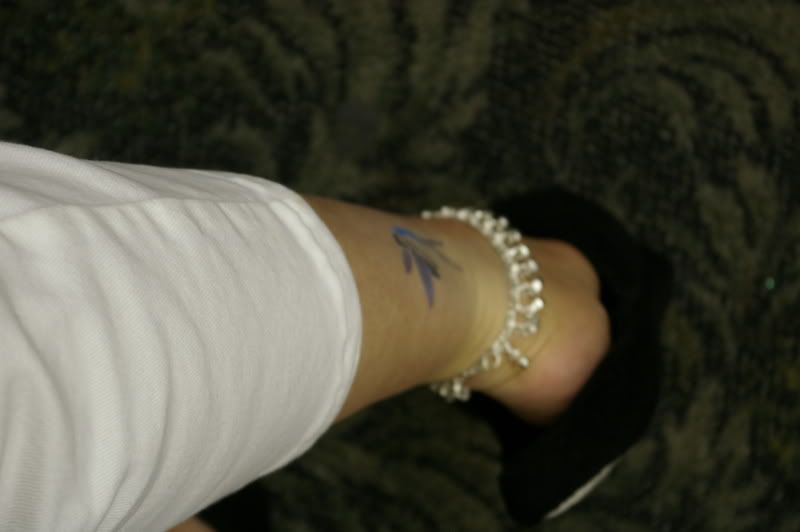 After dinner, I got a tattoo on my ankle. Is it a real one or an airbrush tattoo? I guess we shall have to find out.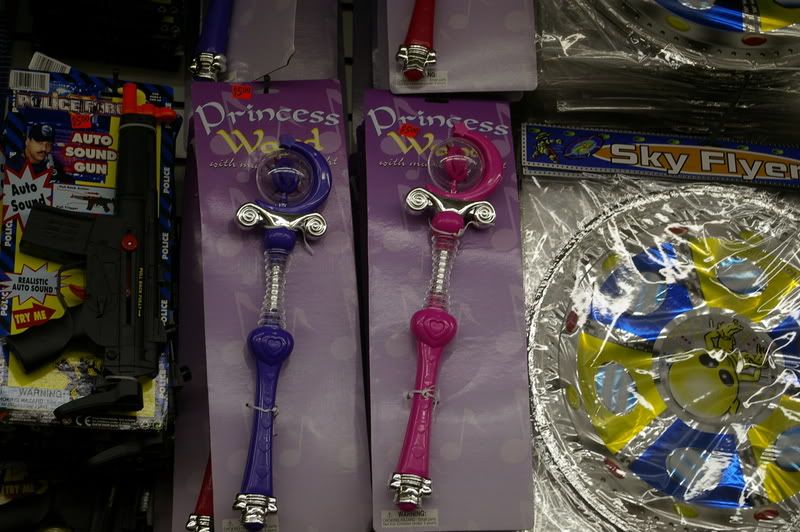 Had I bought these, Jade and I could have played Sailor Moon! Awesome!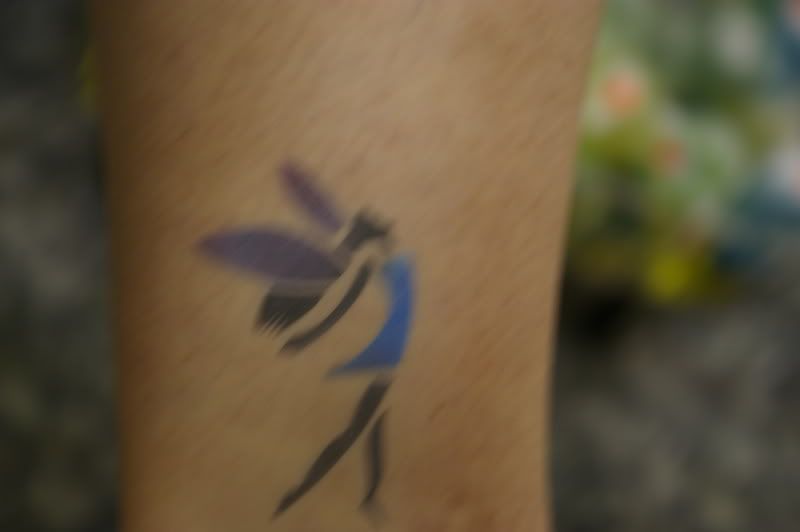 A close up of my fairy tattoo.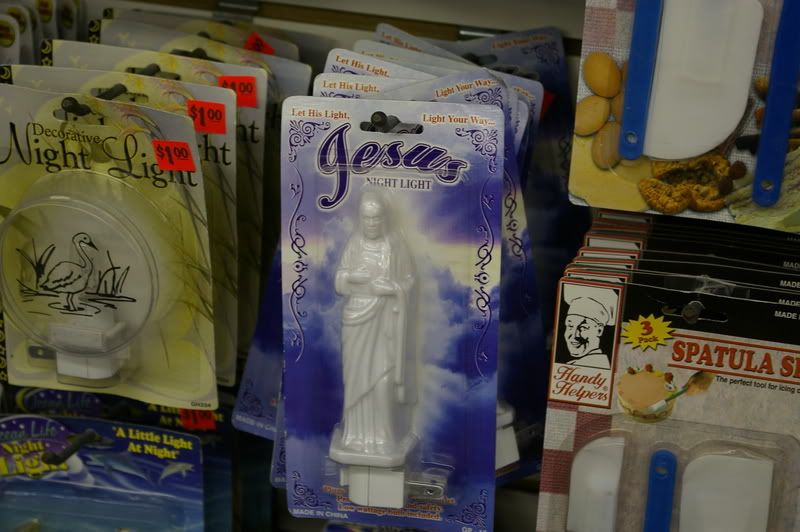 There is something so wrong with a Jesus night light. That has to be breaking some kind of law or biblical rule.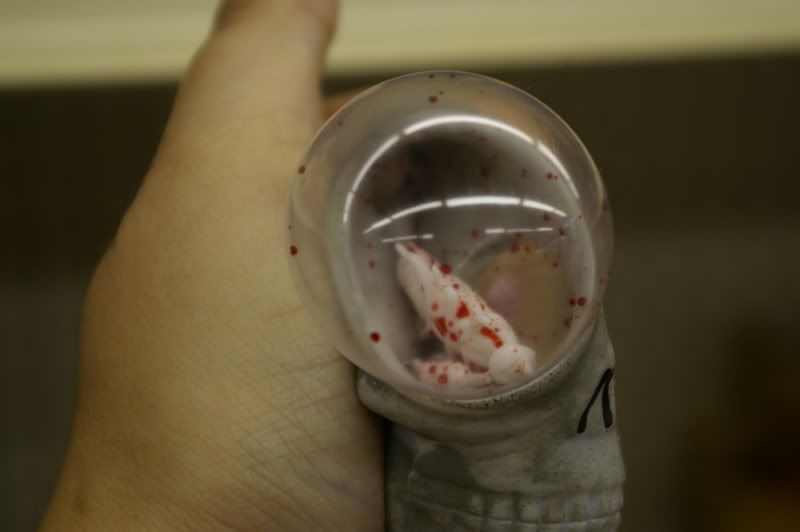 Ewwwwwwwwwwwwwwwwwwww!


I am a swirl of conflicting emotions. I stand for truth and integrity! Go me!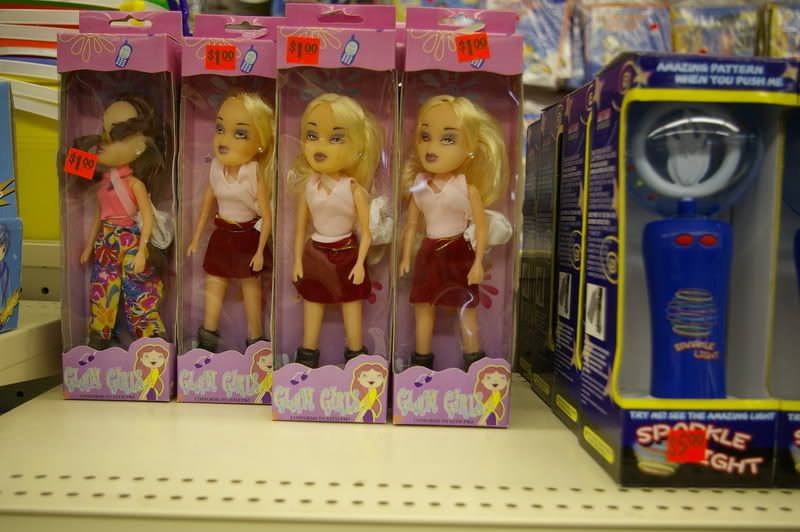 If these girls are glam, I'd hate to see the frumpy ones.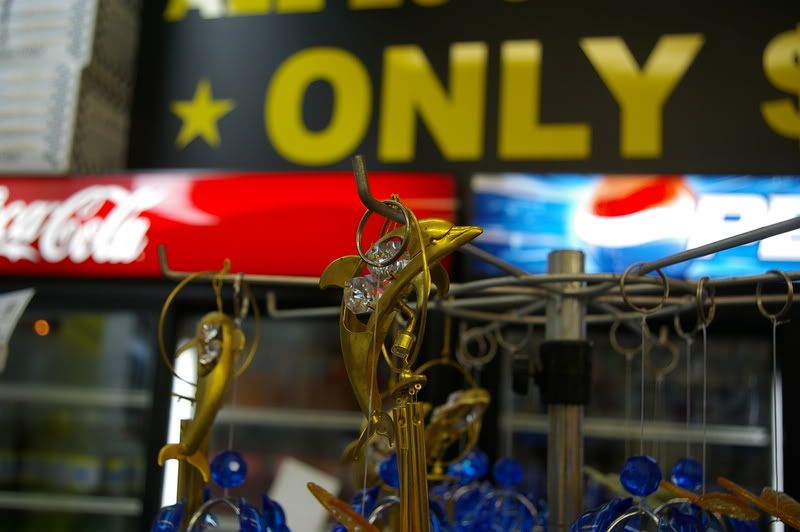 I took a pic of this blingy dolphin for Jade. That is a freaky blingy dolphin.


Our wizard friend if still there, offering up fortunes in Engrish for all!
At this point, I had an obnoxious headache, but shopping had to prevail! I have no idea what i was supposed to be shopping for at this store though….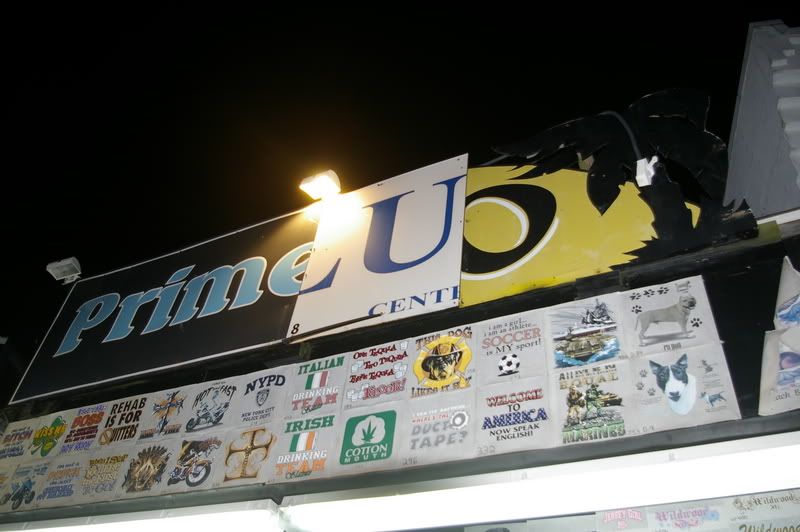 I guess they couldn't decide on a name.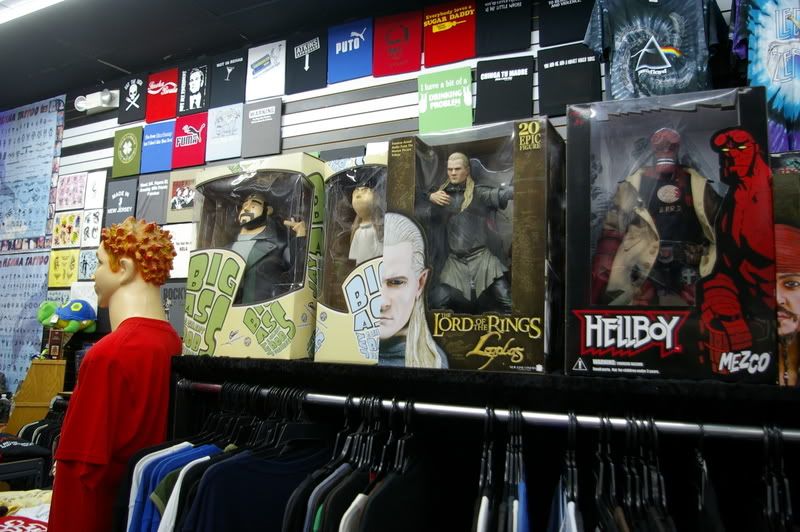 Legolas has some sort of weird kung-fu stance going on there, but I guess if I was by a cartton version of Jay and Silent Bob, I would be in a ninja pose as well.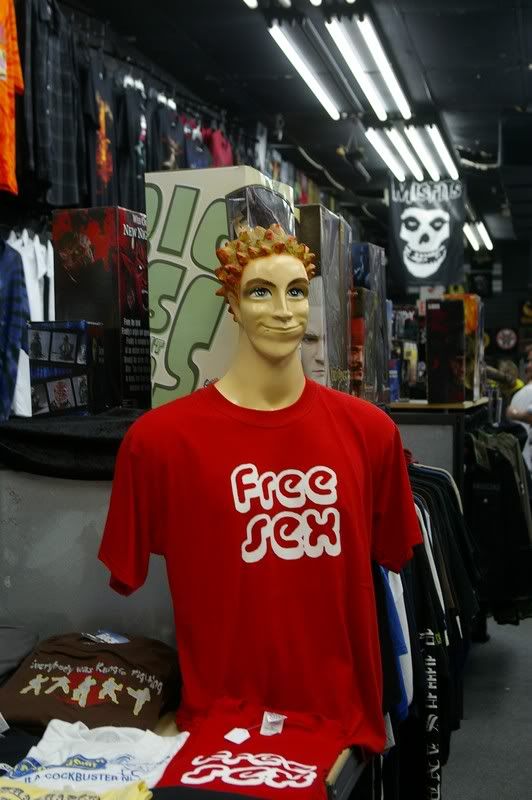 It would probably have to be.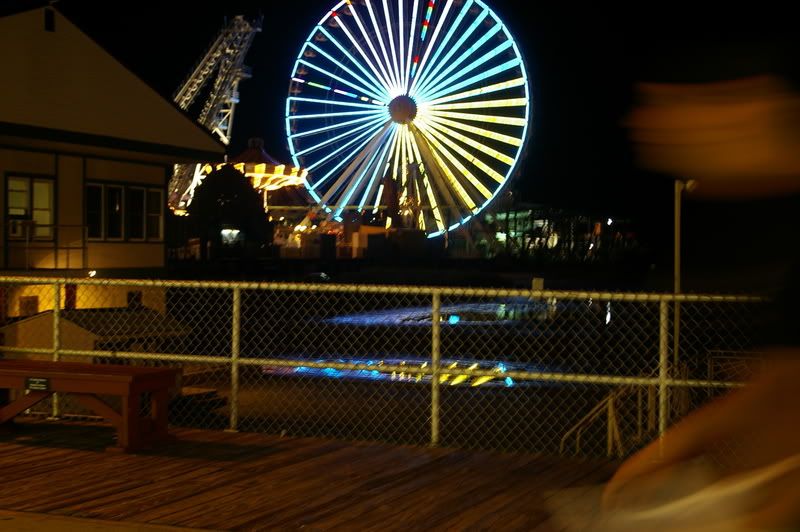 The ferris wheel reflected in the water. That thing is HUGE!
Not much longer after this, my headache got too bad to ignore any longer and Alex was whining about shopping and not going on rides, so we left the boardwalk. However, we rided on the brand new Coke tram, right up front, and every bump we hit sent pain flashing through my head something fierce. We got back to the hotel, where I soaked in the tub, and put on another facial mask, since they are cold on the face, I figured it would help calm the pain. At this point heard Alex outside the door saying he wanted to freak me out with his new toy, which was a tool set with a plastic mask for over the nose. Not being able to resist a challenge, I got out of the tub for sec, opened the door a few inches and asked who wanted to freak me out. He came down to try to scare me, saw the bright orange facial mask, and jumped 10 feet in the air! Mommy: 2, Alex: 0, lol. My headache really didn't feel much better afterwards, so I took some medicine and went to sleep.
September 3, 2006: Day 3
My headache was gone, but we still got off to a late start because Alex had a bad night. He woke up no less than 5 times screaming because he stomache was bothering him. We went for our second free breakfast up on the boardwalk. We walked around a bit, and I decided to rent a wagon to drag all of our stuff in. Alex and I went on a trampoline where they hook you into a harness. I was all about doing flips until I started jumping and remembered that I'm afraid of heights, lol. Pixie, a friend of mine from school, called me around this time, but I couldn't hear a word she said becuse I was next to a speaker blasting a Mariah Carey song. After awhile my mom went to get the car, since we decided to take the wagon with us. While she was gone, Alex and I played one of those water racing games, and although I didn't win, the guy still gave me a prize. I was thinking when we sat down that the only thing worth winning ws a stuffed Gizmo doll, and lo and behold, that's what the guy gave me as my consolation prize without me asking for it. Wildwood is, after all, the best place on earth! We also took some pictures over by those cardboard cut out things.


Check out my muscles! I am the strongest woman alive!
After the pictures, a guy came up to us and gave us the rest of his tickets to the rides on the pier. Score! That was less money we had to pay for them. We got in the car and headed back to the hotel. Alex and I decided to head down to the beach. It was really nice until some kids decided to play baseball less than 3 feet away from us. Out of the entire freaking beach, it had to be right in front of where we were. Ugh!
So after the beach, we went up on the boardwalk, where we were supposed to go on the rides, but Alex's behavior was absolutely horrendous, so we decided not to reward him. We were heaidng home the next day, so if he behaved the rest of the night, he could go on in the morning. He was not happy.
September 4, 2006: Day 4
This was supposed to be our last day, but we decided to stay an extra night! Yay! We had to move up onto the second floor which meant while my mom packed the stuff we didn't need for the night into the car, I had to carry everything else upstairs more or less by myself. We were all tired, so when we were settled, I took a nap while Alex watched TV. Then my mom took him down to the pool while I was resting. I got dressed and decided to take in some beach time, but my mom said she needed to rest for awhile, so I sat by the pool with him for a bit. He was playing with a little girl named Amanda, as well as her younger sister and brother. Then their dad came and he played with all of them, Alex included. At first I don't think he knew what to make of it. After an hour, I sent him back upstairs to get ready to go to dinner later, while I grabbed my stuff and went down to the beach to have some alone time.

Isn't that beautiful? A perfect sky, a hint of a breeze…heavenly. It was just me, my beach chair, my journal, and the sand.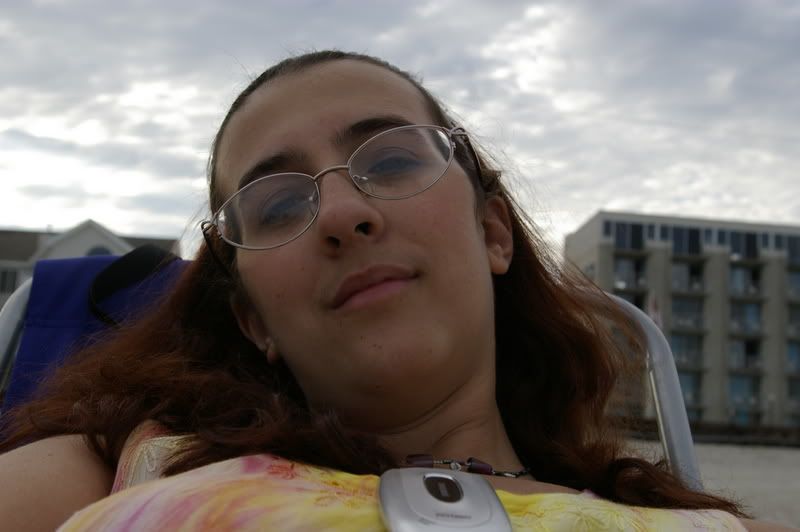 height="249″ width="375″>
This is me with feeling blissful.
While I was sitting on the beach, there was a photographer taking pictures of a young couple and their baby boy, Lance. Lance, look here Lance. *clap clap* Laaaaaaaaaaaaance! I think that was his full name anyway. So they had on white shirts and khaki shorts and were standing at various spots on the beach. Those pictures will be beautiful. I had my digi cam out, and I was writing notes in my journal when some girls walked by. They thought I was with the professional guy, and that we were a company, lol. They seemed sad I wasn't. I should have told them I was a professional. Maybe I could have made a few bucks. Not long after this, the wind picked up a bit, and since I was wearing a sundress, I decided to get out of there before everyone on the beach got a glimpse of my undies, lol.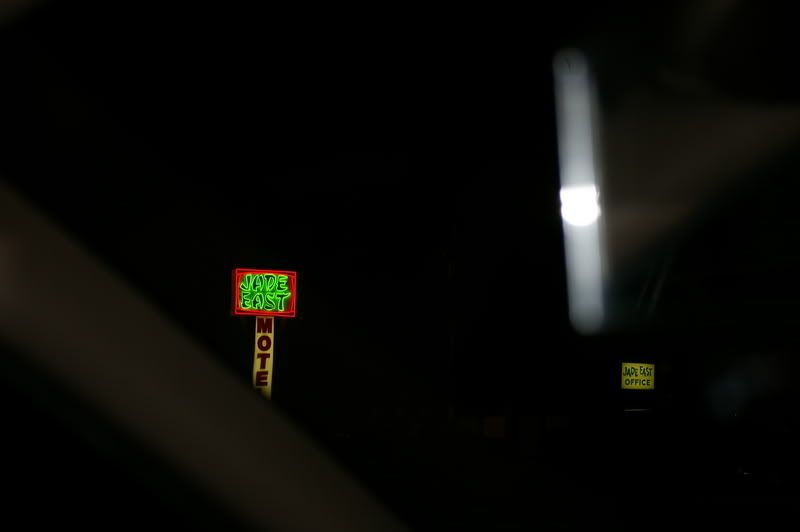 Look! It's Jade East!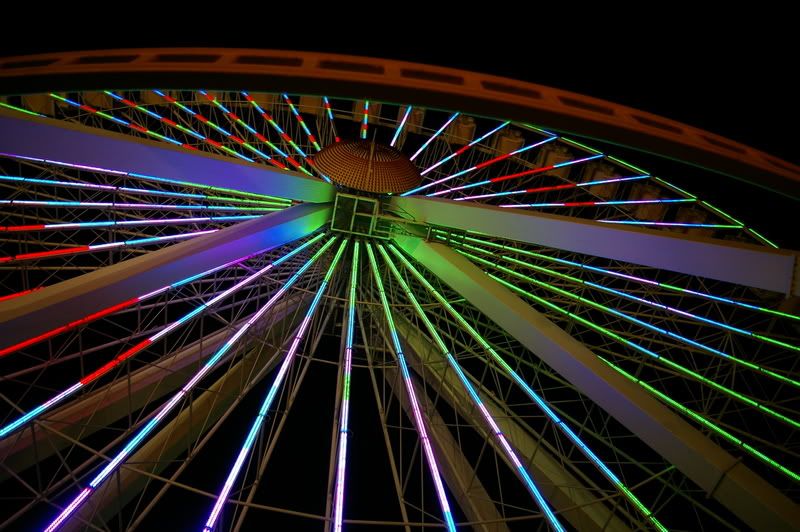 *gulps* I forgot how high this thing went. Why oh why did I forget my fear of heights? I stopped going on rides after the Tilt-a-Whirl, mainly because I forgot that while as a child that ride is awesome, when you are 26 and haven't been on one in a long time, you find yourself with your eyes glued shut, praying for either a quick, painless death or for the ride to stop. Neither came quickly enough, lol. So I shopped for the last of the gifts for my friends while my mom finished doing rides with Alex. At one of the stores, Elaine's or Eleanor's or soething like that, there was a picture of Raven from That's So Raven, behind the counter. Like a picture from a digital camera printed on printer paper, not a real one. And it was autographed by her, saying this shop was her favorite on the boardwalk. RAVEN!!!!!!!! Had Raven walked into the store at that very moment, I would have fainted dead to the floor. I love That's So Raven! That was just awesome squared. When I left the shop, I decided to walk down a little farther, to the spot where my favorite ride had been. I had to say good bye to where the late, great Castle Dracula had once stood. This ride was around since the 70s, but in the winter of 2002, 2 little punks broke in to look around and accidentally burned it to the ground. Stupid little jerk punks. I LOVED that ride. It was the best. Around this time it started to rain a little, so I walked back to the Pier to find my mother and my child. We went back to the hotel for our last night in New Jersey.
September 5, 2006: Day 5
It was our last day and it was raining cats and dogs. Better now that we were leaving than all weekend. We packed up the car and hit the road. We stopped at the fudge shop to get fudge and salt water taffy(sorry again about the girlie pink box, Timmy, lol) and I hit the boardwalk in the pouring rain for one last gift. I had stuff for Jade and for a few other friends, but the only person I didn't have something for was new staffer, Zwei. I had been looking for days for something nice, but I didn't find it until that last day. I had a hard time finding stuff for everyone but Jade in fact, lol. Just the short walk from the car, to the store and back left me absolutely soaked to the skin. My skirt was completely drenched, and my new shoes, which are made of terry cloth, were full of water. But if everyone likes their girfts, it was well worth the chance of catching pneumonia, lol. So now to random pictures I took on the way to the restaurant!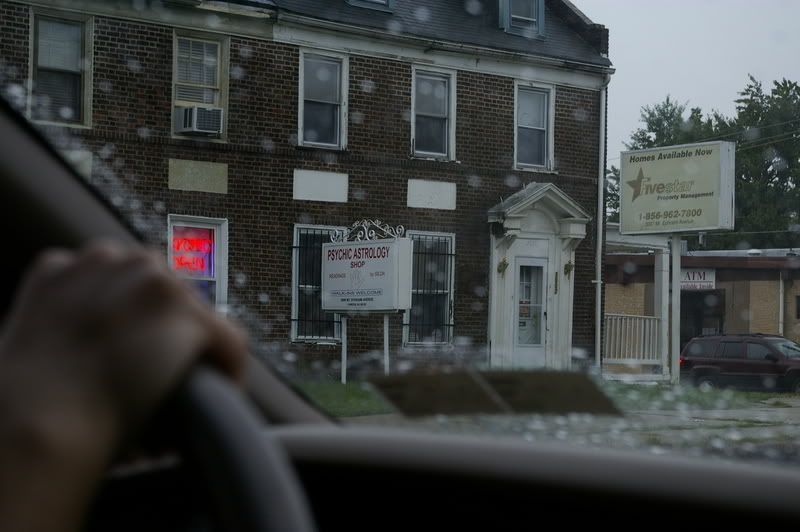 Can you buy psychics in there?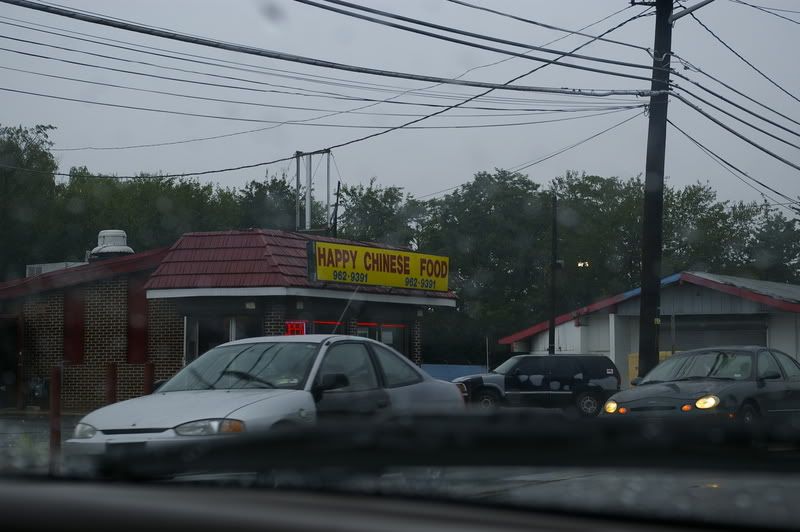 Awww, the Chinese food was happy! I guess it wouldn't be the same if it was Bitter Angry Chinese Food.
So, while we were trying to find the Philly Diner in Runnemede, NJ, we got lost. Oops. We stopped at a place called the Elgin Diner, where I slipped my feet back into my soaking wet and freezing cold shoes. Ack! Let me tell you though, this restaurant had the best food on earth. My mother ordered an open-faced roast beef sandwich, mashed potatoes with gravy and bread stuffing, as well as Vegetable soup. Alex got the "Linus" which was spaghetti with 1 meatball and ice cream. I ordered a 13 oz rib steak, which was supposed to come with onion rings, but they were out. I had mashed potatoes and apple sauce, and for dessert I had a slice od cheesecake with strawberry topping. I was never so glad to get lost in all my life, lol. Let's put this place in perspective. On the boardwalk, we ordered for dinner one night a child's menu hot dog with fries, a child's portion of spaghetti, and a combo platter with spaghetti, stuffed shells and raviolis, which all together came to $38. Now look at the amount of food we got from this Elgin Diner. $36. Yeah. They had placemats with a game on it to see how many words you could find in the word "restaurant." I took a pic of the mat before I added the last 5 words before I handed it in to see if I could win the prize.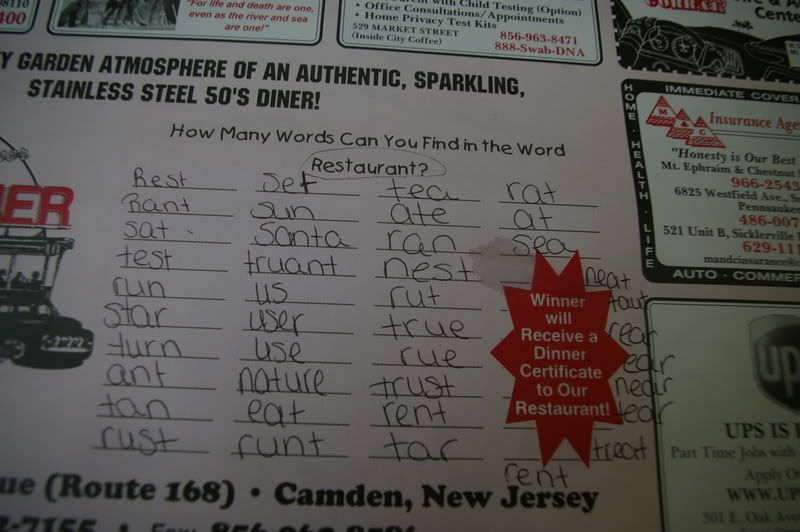 Go me!


Hair's To You!


There's a big black horse, so where's the cherry tree?


Dollarland sounds like the happiest place on earth to me.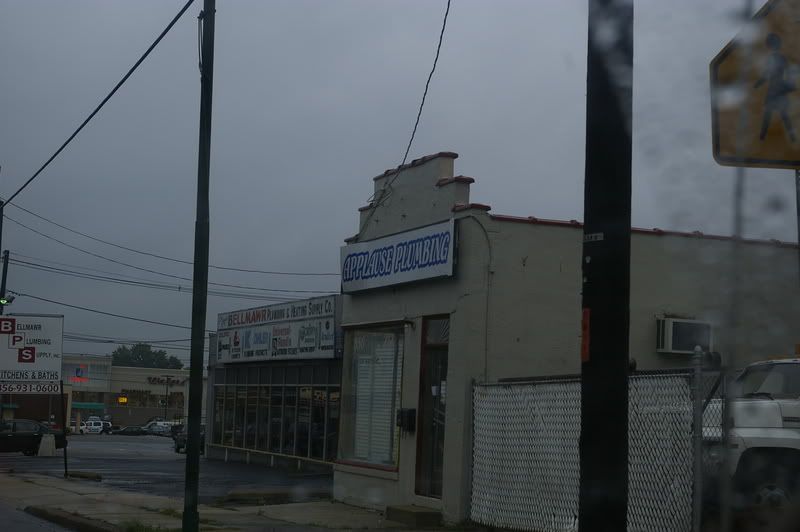 Yay, plumbers! Clap, ya'll!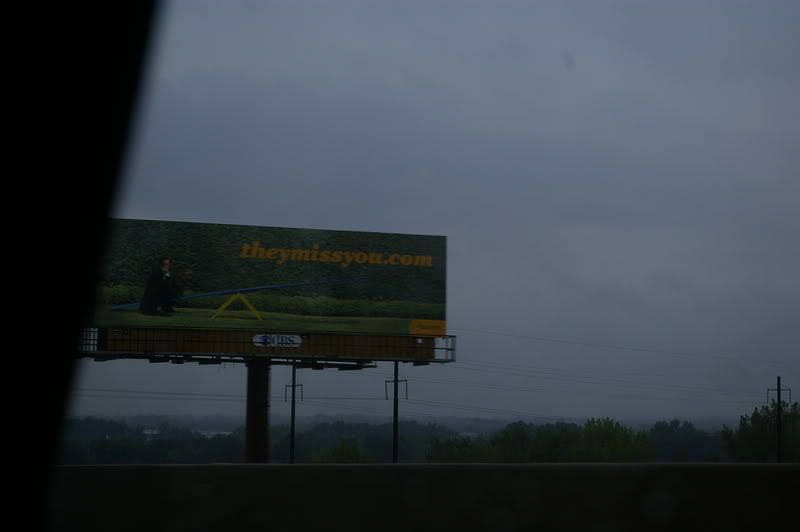 They do?
Somewhere on the ride home, Alex said, from out of nowhere "Love is for suckers." Lol. That was definately the quote of the entire vacation. We stopped once more in Allentown to get some Cinna-buns(Cinna-bons? however you spell it), and I finally got some dry shoes on. I had to be a funny site to see. My hair was down and half curled from the rain, I had a black shirt on, a jean jacket, a long light pink skirt and bright red shoes. Hee! When we were very close to home, there was a truck in front of us with a ticket booth on the back of it! And in front of that was a truck with rides on it. Neat! And then I got home, called Jade, and unpacked my stuff from the car. Whew!
I had a wonderful vacation, a few minor snags aside. If anyone reading this gets the chance, go to Wildwood, NJ and experience the fun! Who knows, you might just run into Jade and I one day. 🙂